How to Wear a Crossbody Bag with Style?
Posted on November 07 2021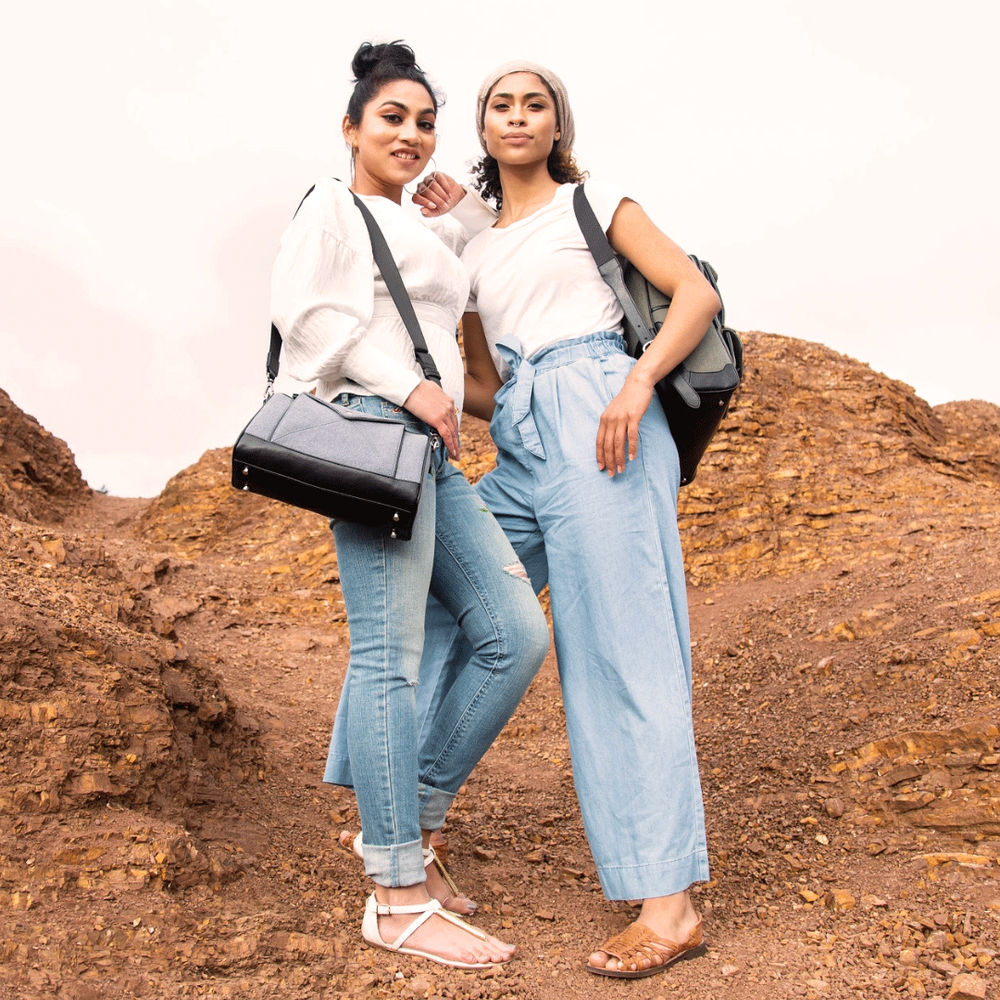 In 2021, we have seen a lot of fashion items becoming a trend. Celebrities and influencers are flaunting 90s fashion on social channels. Be it headbands, cat-eye sunglasses, boyfriend jeans, velvet dresses, cargo pants, and crossbody bags, people are going crazy about them!
Are you following any of these fashion trends? If not, you might think about doing so.
We love crossbody bags.! It's one of the trendiest fashion items that is being followed everywhere around the world. So, today we are going to tell you everything about crossbody bags. Stay tuned.
What is a Crossbody Bag?
A crossbody bag has a long strap and is usually worn diagonally across the body. You can either hang it on your shoulder or you can simply carry it across the body from one shoulder to the opposite hip. 
Wondering how this fashion trend came to life? Here we go!
The trend of wearing a crossbody bag originated in Europe. Both men and women used it ideally to carry coins. But a couple of years later, women switched to "reticules" as the crossbody bags in the early days were bulky. 
The reticules were easy to carry around wrists for women, while men didn't continue this fashion style. Then came the industrial revolution in the United Kingdom, which changed everything in the western part of the world. 
People started using the crossbody bag again. At that time crossbody bags were popularly known as utility bags. It was widely used by soldiers, mailmen, fishermen and people who carry tools for work.
Till the time, this fashion continued. With new fabrics, modern-day machinery and techniques, the crossbody bag has now evolved into a stylish multipurpose bag. It looks sexy and enhances the overall personality of the individual carrying it.
But like all other fashion items, there are some rules to wear a crossbody bag. So, let's discuss them!
How to Wear a Crossbody Bag?
Today, the fashion industry is driven by millennials, zoomers and alphas who take styling very seriously. While these three different generations love to try new things, they are more aligned towards fashion that is comfortable.
As you can see, a crossbody bag is very comfortable to carry. And that's why most youngsters brought this style back from the 90s. If you too want to adopt this fashion, we are going to share some of the best tips to wear a crossbody bag with style!
1. Streetwear Look
If you are going out for a dog walk or casual stroll in the market, a crossbody bag looks just amazing. To elevate your outfit, pick a print style or bold color. It's not just stylish but practical as well.
You can use these hands-free bags to carry your wallet, keys, essential makeup products, or any other item that you love to take along while strolling the streets. This vegan crossbody bag shown in the image below is unisex, convertible, and water-resistant. Moreover, it is made using eco-friendly and cruelty-free material.
2. Smart Casual
Who wants to carry a bag in hand while looking their best in chinos or jeans paired with classy boots and a designer shirt? Nobody, right? This attire itself is all about looking polished while being relaxed and comfortable. And a crossbody bag perfectly matches the aesthetics of this dress code.
3. Cocktail Attire
Everyone loves to go out with their buddies to hang out and party all night! With a fine and elegant dress paired with heels, it becomes difficult to hold things in your hand. Hell, it has been observed that some girls ask their friends to keep their phones and hand wallets in a safe place. If you have been in that situation, you can easily relate!
4. Festive Wear
Holiday season coming up? It probably means that festivities are around the corner.
This is the time to try new patterns, prints and bold colors that you love! This is the time to plan an intimate family get-together, reunion with high school friends, or maybe celebrate the special occasions at your workplace with corporate colleagues. While picking up your perfect festive wear, we suggest you go hands-free with a bold and elegant crossbody bag!
But taking an elegant yet luxurious crossbody bag along with you can save the night for you. Think about all the practicalities. You can easily stack your phone, house keys, car keys, tissues, makeup products, sanitary pads, etc.
5. Business Formal
This dress attire is for individuals who are in sales profile or have a strict office environment. Entrepreneurs and business owners also carry a business formal dress code for office meetings, dinners with stakeholders, award ceremonies, and other important occasions.
With today's fashion trends, styling the business formal with a crossbody bag is possible. You can wear a crossbody bag with a suit to carry your laptop, notepad, and other essentials for the meeting.
What's the Right Position to Wear a Crossbody Bag?
Wondering about the right position to wear a crossbody bag? Well, don't panic. We have got you covered here as well. Typically, fashion stylists wear a crossbody bag in the following positions: 
Across the Back:

This position is suitable if you are going for moderate activities like hiking, jogging, cycling, etc.

Across the Chest:

While this position eases any stress on the shoulder, this look is not for everybody. So, try it before adding it to your wardrobe.

On the Hip:

It is the best position if you are strolling the market and want quick access to your mobile phone, wallet, etc.

On the Stomach:

If you want to keep your belongings safe from thieves, you can rest your crossbody bag on your stomach.
Today, a lot of people are becoming conscious about saving the planet earth. So, we urge all our readers to go vegan. If you are not sure how to get started with vegan fashion, check out this guide.
Final Words
"What you wear is how you present yourself to the world, especially today, when human contacts are so quick. Fashion is instant language." - Miuccia Prada
Styling is important. And with crossbody bags, there are multiple looks that you can go with! You just need to make sure that you position it right, choose the right color and go with the right brand.
Have fun!