BE WHO YOU ARE
Be Good To The World
Sustainable, Vegan & Unisex Bags
Helen*, a homosexual female, enjoying time in nature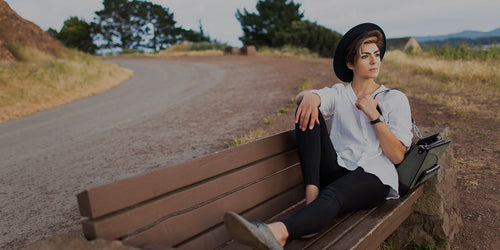 BE WHO YOU ARE
Be Good To The World
Sustainable,Vegan & Unisex Bags
Ivy*, a bi-racial woman, practicing her dance moves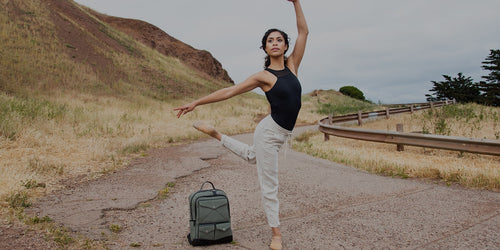 BE WHO YOU ARE
Be Good To The World
Sustainable,Vegan & Unisex Bags
Amira*, a muslim woman, wearing her identity in pride
Our goal is quite simple – we want our customers to feel comfortable, look fashionable - based on their personal choice in style - and feel content that they have made a sustainably responsible purchasing choice. We develop meticulously crafted sustainable and vegan leather bags that are meant for both men and women. We believe that we need to protect our world and the animal kinds. We believe that fostering a society where each human being is valued and embraced for who they are – regardless of their differences in size, shape, choice, sex and belief - is essential.
THIS IS

OUR STORY
WHAT MAKES
Our Bags Different
Our bags are designed keeping your style and comfort, and, longevity in mind. Our bags are sustainable, vegan, and unisex. They are uniquely designed (we like to stand out!), meticulously crafted, functional, and lightweight. They are versatile – you can carry it to work or a dinner party. We only use environmentally-friendly and cruelty-free materials. A variety of plant-based, recycled and organic materials have been used in our vegan and eco-friendly bags. And, since we are a slow fashion company, we produce these bags in a limited quantity as doing so otherwise would be harmful to our environment.
LEARN MORE ABOUT OUR MATERIALS
Stylish, Functional Designs
for Men & Women
SHOP NOW
Slow Fashion Champion
---
Limited
Production Run

Recycled &
Plant Based
Materials

---
BE SUSTAINABLE
BE GOOD TO THIS WORLD

Our Sustainable, Vegan & Unisex Bag Collection
Check out our Luna Collection! Whether you are a traveler, minimalist or maximalist, we have a style for you.
WHAT PEOPLE
Say About Us?
 "They make stunning and chic, sustainable bags that are high quality, minimalist, unisex, animal-friendly (i.e. vegan), and non-toxic" 

- VeganBeautyReview.com
  "I'm so happy to have discovered this beautiful backpack bag!.. The brand utilizes innovative materials to achieve sustainability."
- Instinctivelyvogue.com
 "All of their products are a thoughtful combination of unique design elements that minimize the environmental footprints"
- BalancedBabe.com
"In our busy season of life between juggling kiddos and our work, this LUNA Eco Backpack can take us from the beginning of the day to the end of the day with everything we need."
-Styleblitz.com 
"The Luna Eco Backpack is sturdy enough to carry everything I need comfortably. It's modern, sleek design makes this bag super versatile; I can pack it for work or take it on a trip!"
- Sweetsavleigh.com