Vegan & Sustainable Unisex Bags
Posted on September 02 2022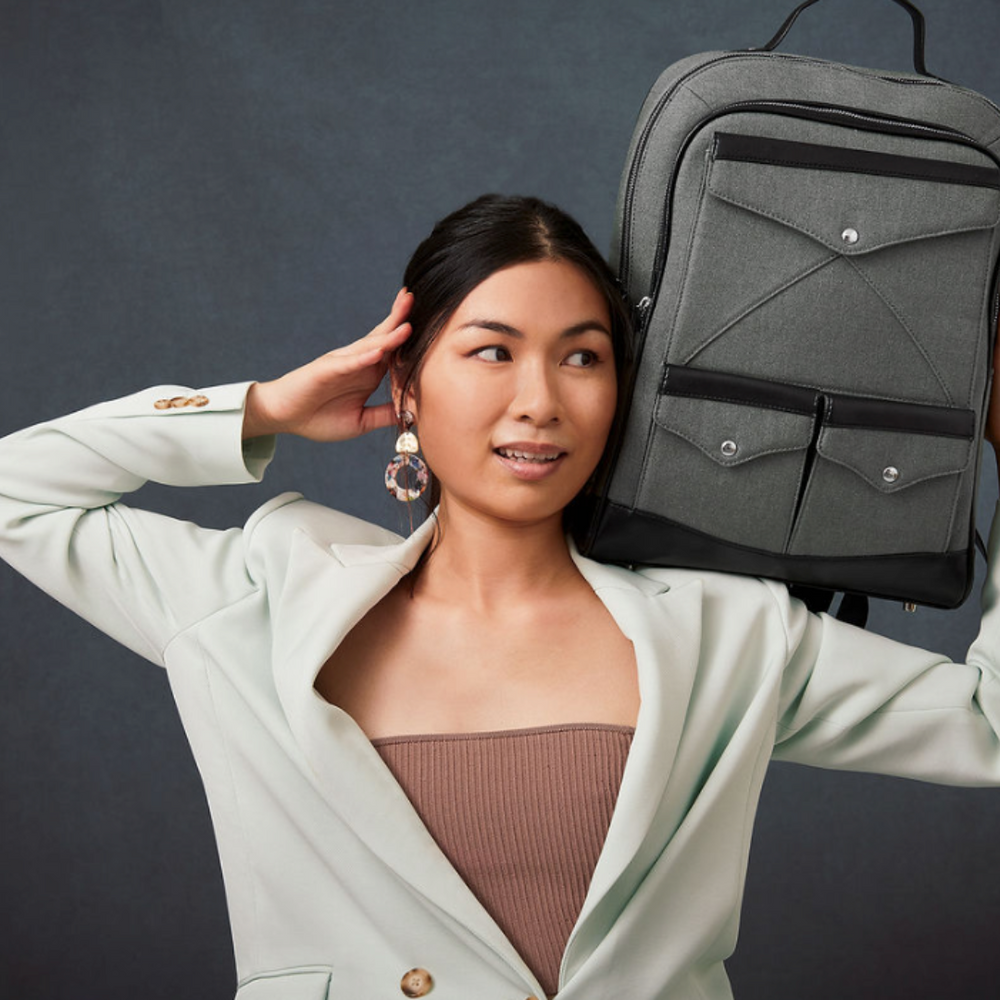 Fashion is a way to express our personality, style and confidence; it is a vital part of our lives. Except for clothes, there are many other fashion items one carries to complete the outfit like a ring, neck pieces, jackets, shoes, handbags, etc. Fashion trends change faster than seasons these days, and one of the major reasons behind this is fast fashion. Mass production is a major cause of environmental hazards. Maintaining your fashion statement is not wrong, but deteriorating the ecosystem and killing animals for the sake of fashion is ethically wrong plus, we have no right to take anyone's life.
Fashion and ecosystem are closely related to each other; the fashion industry is in 3rd position and overall contributes around 10 percent of global carbon emission. The rate will continue increasing if we don't care to put a full stop to it. This is why you might be hearing about vegan and sustainable fashion in multiple fashion articles. No, you are not supposed to change your entire wardrobe at once. Just take small steps in the beginning.
Why Vegan And Sustainable Handbags?
Average women own around 10-12 handbags, and 4-5 are the statistics for men who work on a daily basis. The handbag industry is a vast market, so you can start your small steps starting with these. You are contributing to the vegan movement if you buy vegan leather bags or handbags instead of authentic ones. This indirectly means you just saved an innocent animal's life, the harmful toxicity caused by the leather tanning, soil and water pollution, etc. Giving up leather as an individual and encouraging others to do it also can make a huge difference.
Comm'n, it's just handbags, but those handbags can literally help with reducing some pollutants and stress from the environment. This is why you should promote vegan fashion articles, especially those that can sustain for a longer period of time. Mass production is also a problem; here, the concept of unisex works the best. A single product for both men and women will avoid different manufacturing and resources used during production and manufacturing.
Types Of Unisex Handbags
Anything is unisex if you are "Men enough" to wear it. Yes, because men often hesitate while carrying unisex fashion articles. All the options available in the market can confuse the buyer; you might have your own doubt about the product being unisex, sustainable and vegan all at once. We have discussed the perks of unisex fashion articles with respect to controlling mass production. Under this section, we are compiling some vegan and sustainable kinds of unisex vegan handbags.
Convertible Backpacks:
Convertible backpacks will be your first choice in the list of unisex bags. For your multi-purpose events, this one will suit you the best out of all. Convertible backpacks are unisex; both men and women can use them. You will get two types of straps, one to use as a backpack and another one to use as a shoulder bag. Both will be adjustable, so you can adjust them as per your comfort. Being vegan, they are made of recycled materials like plastic or cotton, hemp, and Linen. If you want some plant-based products, then with the help of some searches, you can find that too. So convertible backpack is your option for sling unisex backpacks, which you can also carry as a backpack.
Messenger Bags:
Messenger bags are in trend due to urban fashion; they are also famously known as messenger bags. They are shoulder bags; you can also carry them around your chest or body. They come with an adjustable strap for adjustment and with multiple different compartments. If you want messenger bags in a faux leather vegan friendly, options are available in this category. Messenger bags are for people who want to travel hassle-free without worrying about their stuff. Think of them as big sling bags, and we all know how comfortable sling bags are to carry. You will find multiple different varieties and colours under this category.
Backpacks:
Backpacks are everyone's favourite, and it is also gender neutral. The reason to put backpacks under this list, even though people are using backpacks, they are not sustainable. Due to heavy weight, these bags got torn up or generally got damaged; this is why checking the tags for materials used during the manufacturing is important. Product tags are not just to see prices under them; they tell many others about their manufacturing and production. When you opt for vegan bags, they are generally formed with heavy plant or recycled materials. Mostly these products claim to be sustainable, so there is no harm in checking such products.
Canvas tote bags:
For your daily basis usage, we have included this bag under this list. Be men or women, we all go out for basic errands, library, etc. For your casual outings, a tote bag is the best option. G-zen has been using these bags often and creating aesthetics of their own, but guys and girls of any generation can use these. You will find multiple colours under this category, but the beige colour is in trend. People choose to put their own personalised graphics over them. You can pick any colour of your choice, and some small businesses also offer customization.
Unisex Sling Bags:
Slings bags are evergreen; they can never get out of trend. Unisex crossbody fashion backpacks have been top choices for high school students. They come with multiple chain compartments; you can also find some separate inner blocks to keep your things safe and secure. Under the vegan variety of these sling bags, you can find multiple colours and styles. So you can pick one as per your style and personality.
The Final Thoughts:
There are multiple advantages of buying vegan-sustainable unisex handbags & purses; yes, your action will profit the environment. Also, you and your wife/husband can use a single bag; you both will have more options with bags further if you want to learn about the advantages of buying vegan and sustainable fashion articles. Then you should do your research about the subject and dig deep.
Also Know Some Mind changing Information About How to Wear a Crossbody Bag with Style?