Luna Bags Founder Celebrates Heritage through SpandaanB
Posted on July 01 2023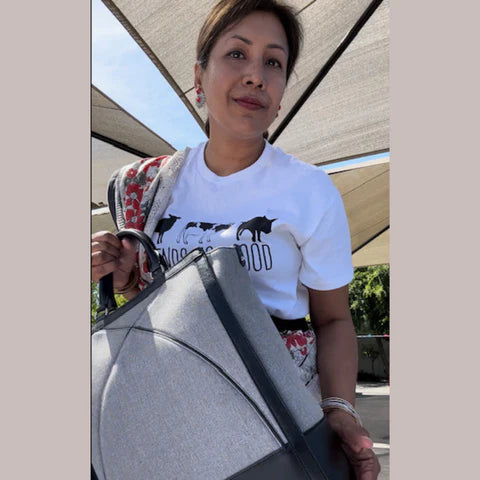 Luna Afroz, Founder of Luna Bags
I am Luna Afroz and am the Founder of Luna Bags. I came to the United States as a student and stayed here ever since to pursue the American dream. The American dream is about starting from nowhere and surmounting roadblocks to achieving one's dreams - the dream maybe about purchasing a home for your family, opening a store, becoming a chef, getting a job or building your own company. For me, the true American dream has been starting Luna Bags, a sustainable, unisex and vegan brand, and ultimate dream come true would be to make eco-friendly, plant-based and cruelty-free products mainstream and Luna Bags be a major player in such transformation of society. Part of the dream would also be to convince people to adopt sustainable and cruelty-free lifestyles via our outreach programs.
I am, definitely, a proud brown woman. However, after living in a heterogeneous society in US that many people refer to as a melting pot, I have grown a network of people and friends that come from different backgrounds and races. I am very proud of the United States and this country has given and taught me so much!! However, I'm also proud of my roots. I was born in Bangladesh and, in many ways, my culture has taught me to fight the battle of survival when I moved to this country. I learned to cook at an early stage, manage my finances, take care of my household and be hospitable to people around me. These are essential life skills that, in many ways, were taught by my culture. My love and dexterity in cooking eventually helped me to transition into a vegan lifestyle. A lot of people struggle, when they make such changes, as they find food bland and boring. That has not been an issue for me as I incorporated flavor, texture and variety into my vegan cooking.
 SpandaanB
I recently had the honor of attending a program arranged by SpaandanB, an organization that offers various programs that help the under privileged in Bangladesh. I have watched the organization from far and admired its initiatives. SpandaanB funds children's education in poverty stricken areas, sends emergency funds to Bangladesh and sponsor varieties of programs to alleviate hard ships.
The main objective to attend the SpaandanB event was trifold: support the organization, have a conversation on factory farming and animal cruelty, and, obviously, let people know about our products. However, even with all these novel objectives, I cannot tell you how much fun it was getting ready and then attending the event. I was about to wear saree – obviously in a fusion fashion – combining east and west. I had many cups of teas, delicious snacks and food. So attending the event did not feel like fully work but it became enjoyable and memorable personal event for me.
Marufa Kaniz, SpandaanB President and
Mir-a-Taj Chowdhury, Executive Team Member
Luna Afroz with SpandaanB Team: Marufa Chowdhury and Mir-a-Taj Chowdhury